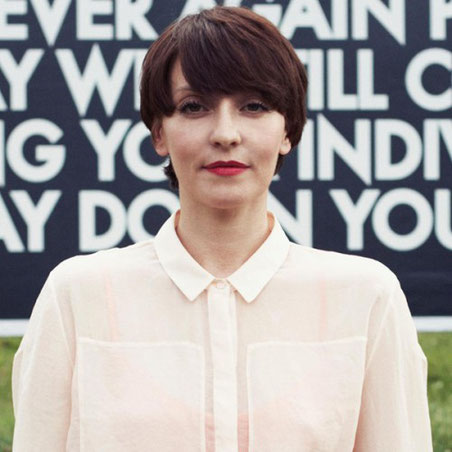 Alejandra Del Pilar Iglesias Rivera aka Dinky was born and raised in Santiago, Chile, as a child she studied Ballet and the Suzuki method of piano before relocating to New York to become a contemporary dancer. Her drive to make music brought her to Berlin a decade ago where she quickly became a dominant force in dance music, making her mark through releases on Carpark, Cocoon, Ostgut, and the critically acclaimed 'Anemik' album in 2009 on Mathew Jonson´s Wagon Repair. Her fifth studio album, 'Dimension D' sees her evolve into singer-songwriter and performer and take on a new musical direction
Hello Alejandra, with your fifth upcoming album "Dimension D" on Visionquest you take on a new musical direction especially as a singer and songwriter. Tell us a bit about that developement. Did you took for example singing lessons?
Since I was a child i loved songs and would actually sing secretly in my room on top of music and record myself on tape, I was kind of shy but singing was always something I loved but did not feel i had the personality to do it. My mum, my sister, my granmother and uncle sung publicly and very well so i grew up with singers, it was a
bit intimidating maybe and I chose the Piano instead.
After being a DJ for such a long time I realized i needed to pursue my dream of singing and writing songs, so I have decided to stop giging like a maniac and invested time on studying music seriously and yes I took singing lessons, Opera, Jazz, Piano and perfected my guitar skills with lessons and practice. It was a very rewarding experience.
You have co-produced the album with your husband Matthew Styles and this is not the first time you are working together with him. How would you describe the partnership in the studio?
It's great and really fun! Neither of both knew well how to record instruments and voice, we have learned together to do it with this album, we made mistakes and struggled at times but it was a process.
I basically did all the music, songwriting  and beats and when it came to mixing and some recordings we did it together, I think 4 ears can hear better than 2. So Im not afraid of having some help when this can improve my music and musicianship. Matthew is a great engeneer, he can spot bad frequencies, I learned a lot from him by working together.
What do you love most about living in Berlin?
The freedom and the fact that there is so much music around but mostly I feel completly myself here.
You have moved in the 90's to New York to focus on your dance studies. In which way was that an enrichment for your musician and dj career?
Being a young girl in NY was very important and influential, I went there as a very young dancer but soon after, I realized i wanted to make music so dance became secondary. In NY I met many people and herd amazing music, went to clubs and started making music. I went trough difficult and amazing times, I learned to share and to listen and to be strong, I was very poor but very happy cause i was doing what I loved. It was a very important period of my life to know myself better and to find my own musical path .
How does it feel to live and work in a male-dominated music scene?
I don't think about that much to be honest, I might have thought about it more when i was young and got frustrated at times, but I feel like once we start talking about the male-female controversy we put an instant barrier and it becames a problem.
 I am in control of my music, my image and I want to be represented exactly as I feel like, so I rarely feel that there is a problem with the fact that there is more men in the industry.
If there is anything I am a little tired of it would be the victimisation of women in dance music, people love to see female Djs and producers do their thing in an honest and strong way and I am very happy about that. For me, the most important thing is to do your thing with passion, being a man or a woman is equally as challenging in their own way.
Event: 29.06.13 GB SUMMER CLOSING WKND #03 w/ Dinky | http://www.facebook.com/events/522042781165959
Interview Ahmet Sisman