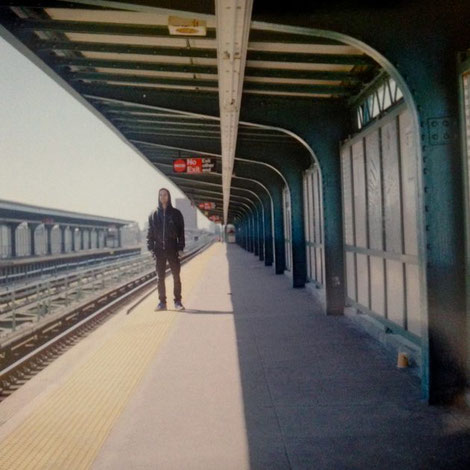 Taylor Quinn aka Young Male macht im Januar eine kleine Europa-Tour und einen Halt im Goethebunker. Der gebürtige New Yorker betreibt zusammen mit DJ Richard das berüchtigte Label White Material Records. Mit einer überschaubaren Anzahl an Veröffentlichungen zeigt das Label eine derartige Bandbreite an musikalischer Vielfalt, was nur wirklich wenige Imprints hinbekommen: Klasse statt Masse! Insbesondere sein aktuelles Album (WM09) ummantelt eine packende Atmosphäre im Stile der 80er Wave-Bewegung gepaart mit experimentellen Synthesizer Klängen, dass es für uns als eines der besten Alben 2016 gilt. Der für sonst trockenen-hypnotischen Techno bekannte Young Male zeigt uns damit, dass die musikalische Identität eines Künstlers sich nicht nur auf einen Stil oder Genre begrenzen muss. Wir freuen uns auf sein Debüt im Bunker! Bunkernacht Gastgeber Ahmet Sisman hat vorab mit dem New Yorker ein Interview geführt.
Hello Quinn, you will play for the first time at Goethebunker. Did you hear anything about the club before?
What's up Ahmet! Yes this will be my first time playing at Goethebunker. I'd heard some rumors about the club around a year and half ago when I was in Hamburg playing at Golden Pudel. I met someone who mentioned it. They said that it was excellent mid sized venue and that the sound system was amazing. I'd heard a track of yours around that time also which I liked immediately and I later found out you were connected to the club. It was a good sign and I'm really looking forward to playing there with you.    
As a New Yorker, how would you describe the scene there? What would be the major differences to a European Capital like Berlin or London for example?
First off let me say how much I deeply love and appreciate what is going on in this city. From older generations to newer I'm consistently inspired. Big up to everyone doing their thing in all 5 boroughs and Jersey. The NY scene is difficult to pinpoint, It is vibrant, diverse, and constantly shifting. No one genre has a stranglehold on nightlife and on any given night on any day of the week you can find a party going off. From small clubs like Bossanova Civic Club to sprawling warehouses to the back room of some dirty pizza spot. For me the main difference I see between the big European cities and New York is there are no mega clubs. No Berghain, no Fabric, no Concrete. I don't typically party at the larger commercial clubs in New York and most people I know stick to a few smaller spots or warehouse raves. Because of this dynamic there seems to be an explosion of people taking initiative and working together to make parties happen. It's been beautiful to see and be a part of.
You are running together with DJ Richard the label "White Material Records". What made you start the label and what is the philosophy behind it?
We started the label in 2012 because the 5 of us had been producing music, playing live, Djing, and throwing parties since 2006 or so and the time simply felt right. It was inevitable. There has never been a philosophy but I have always wanted everyone to take as long as they needed to work on their releases. I'm sure most labels encourage the same from their artists. I always hoped that quality would be prioritized and that time wouldn't be an issue. For better or worse.   
Your latest album has a certain vintage/retro vibe and sound pretty amazing. Is that kind of sound something you wanted to focus on? Or to say it in another way: Is being "retro" a common trend nowadays?
The past is always trendy. It's funny you point that out about my record. The sound of my LP was never intended to be vintage or retro. What I was focusing on was creating a distinct vibe and telling a story through music about a dark period in my life. The sound I was aiming for was actually something subtly futuristic with obvious nods towards the past and the innovators who came before me.  
How do you see the Lo-fi approach in electronic dance music? Is that something you would dig for?
If Lo-fi is something a producer is striving for I cannot relate. I'm always attempting to make the best sounding and most hi fi work I can with the limited resources that are available. If it sounds purposefully low fidelity I'll skip it.
What are your favorite studio gears? And any hints for upcoming producers?
My favorite piece of studio gear these days is the Waldorf Blofeld. Some good shit coming from that. In terms of advice to upcoming producers, I would say listen closely to lots of different genres of music and do some A to B comparisons. Try mixing your tracks with tracks you love and take note of your eq work. This always helps me understand what needs tweaking.
Are you more a TR-808 or TR-909 guy?
Both are fucking killer and indispensable, but neither has it all. Sometimes you need the melodic sub frequencies that only the 808 kick can give and other times you want that mid range attack from the 909 to cut through. There's a metaphor in there somewhere.
What would be your all-time top five dance tracks?
Underworld – Born Slippy (Nuxx)
UVB – Mixtion
Motiv A – EX1
The Vision (Robert Hood) – Chrome
Terrence Dixon – Dark City of Hope
Bonus track for slow dancing at the end of the night, The Flamingos – I Only Have Eyes for You
The best cure for hangover is?
Sleeping for 12 hours and eating spicy ramen.   
What are your upcoming plans music wise?
To continue to do my homework, book myself at Melt festival, finish some new tracks and put in serious time working to improve as a Dj. I'm only warming up.
The best and worst about social media is?
Social media can actually connect you to thousands of people who will support you, criticize you, and teach you some real shit. If you can embrace that it can be an unparalleled tool for growth. The bad things are endless, don't let it swallow you. Put that phone away and dance with your friends, fuck taking the picture for social media.
Thanks for the interview and see you on Saturday.
21.01.17 Bunkernacht mit Young Male
Interview Ahmet Sisman